Happy Monday everyone!
How hard is it to start your day after a very relaxing weekend!
<--This is how my Sunday looked like, with one of my cats, Jolene
Then to get up super early the next day, bike in the cold and rain (it's suppose to be summer!), off to work. Well perhaps this will brighten up your day because I found some awesome free e-books available on amazon!
Blue Moon (Blue Crystal #1)
Forget vampires," he laughed dismissively. "Who wants to drink blood for eternity? What we have discovered is far more seductive and a great deal more dangerous…" When 17-year old Emily Morgan meets beautiful but strange Theo de Lucis, there is an immediate attraction between them. But what is his secret? What ancient link ties him to Emily? And what is the significance of the Blue Moon Ball? As Emily is drawn irrevocably into the glamorous and mysterious world of the de Lucis family, so she is forced to change every perception she has ever had about life, love, aging and death. The truth is terrifying and the consequences unthinkable… in this supernatural horror story, based on society's obsession with aging and the desire for eternal youth…
Dark Angel (
Dark Angel
)
Lizzie's life is busy but normal—juggling her college courses and hopes for university, and trying to work out her feelings for Tom, the sweet and almost too-nice boy who works at the local care home. But "normal" suddenly flies out the window when Liam moves in next door. Her new neighbour is dark and mysterious, and Lizzie instantly feels attracted to him. But Liam isn't just a smoking hot piece of man candy—he's a sylph, an air elemental, and Lizzie is the only one who can see his wings. Liam is an oddball far from home, and Lizzie finds his arrogance and sensitivity hard to deal with; he doesn't understand her sarcasm or her obsession with Star Wars. But Lizzie can't deny her attraction towards him, and they grow closer, despite her reservations and despite it straining her friendship with Tom. Is Liam truly what Lizzie wants? Are instant sparks of attraction enough, or will Lizzie end up getting burned?
Heart of the Dead
(
Perpetual Creatures #1
)
Jerusa Phoenix never thought she would experience anything more shocking than being able to see ghosts. Then she met Silvanus. The young man with unearthly eyes, who seems to be able to read her thoughts, is handsome, powerful, and she is sure of one thing: he isn't human. But Silvanus isn't the only mysterious creature to come to town. Jerusa, ignoring the warnings of her ghost companion, Alicia, finds herself face to face with a group of vampires. Silvanus tries to save Jerusa, but she is wounded in the battle. Silvanus kills one of the vampires, but to all their horror, he rises again to become something far worse . . . a mindless flesh-eater known as a savage. Jerusa is transformed into a vampire to save her life. Silvanus is poisoned by savage blood and when he vanishes before their eyes, Jerusa realizes something else. Silvanus isn't a vampire, either. Jerusa, along with the ghost Alicia, must join with the other blood-drinkers to hunt down and destroy the savage before he can make other savages, proving that she is worthy to be a vampire. As she embarks on this dangerous mission, she can't help thinking of Silvanus. Where is he? Who is he? What is he?
A Brush with the Moon (Foxblood #1)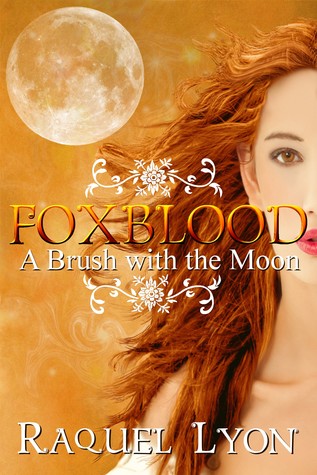 One moment is all it takes to change your life. For Sophie, it happened the day the fox attacked her. All Sophie ever wanted was a way out. Only a few weeks ago, she was a quiet art student with an overbearing mother and no higher dream than starting university and reuniting with her BFF, but destiny intervenes in the form of a fox bite. If being attacked by a rabid animal isn't freaky enough, her new town has secrets. People are dying, and Sophie feels she is being watched. Then there's the arrogant and annoyingly sexy Sebastian with his plummy accent and come-to-bed eyes creeping her out. She should stay well away, but then he does live in the spooky manor house, and curiosity is her middle name. This book uses British spellings and contains language and sexual situations not recommended to be read by those under sixteen.
Would you be interested in any of these ebooks? To me, Fox Blood (A Brush with the Moon) sounds super awesome!
Have you hauled in any new books for this upcoming week?
I wish you all a wonderful day (despite it being Monday)! :)